New Lacrosse Rules Changes For 2021 & 2022 Seasons

What are the new lacrosse pad rules?
If you haven't heard yet there are new rules that will be enforced in the upcoming lacrosse season regarding players chest protectors, shoulder pads and girls goggles. The US Lacrosse Board of Directors approved these changes to enhance heart protection for injuries related to commotio cordis.

Are my lacrosse pads legal?
To determine this, check your pads to see if they have an imprint of the logo seen at the top of this page. If you do not see this, you can find new shoulder pads and chest protectors legal for the upcoming lacrosse season at LacrosseUnlimited.com
Beginning in 2020,

all protective eyewear must be SEI certified to the current ASTM lacrosse standard F3077 in order to be regarded as legal for play.

Click here to find girls goggles legal for play in 2020
Beginning in 2021,

only a goalkeeper chest protector designed for lacrosse that incorporates the NOCSAE ND200 standard will be legal for play and shall contain an SEI certification mark.

Click here to find chest protectors legal for play in 2021
Beginning in 2022,

field players must wear protectors for commotio cordis (shoulder pads) that meet the NOCSAE ND200 standard and contain an SEI certification mark.

Click here to find shoulder pads legal for play in 2022
To learn more about Commotio Cordis Injuries and NOCSAE Standard ND200 go to www.uslacrosse.org/commotio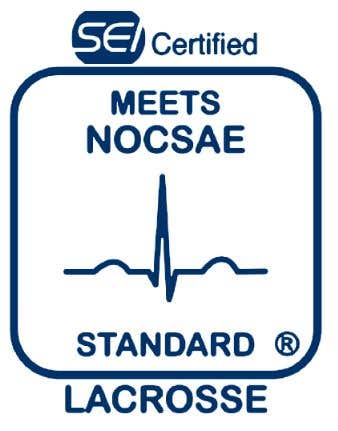 Help Our Give & Grow Program!